I Don't Know What I Don't Know
June 18, 2020 Author: Erin Harris, Director of Customer Experience
Have you ever heard the phrase "I don't know what I don't know"? You have processes, policies, and instructions. It may seem like everything is running like a well-oiled machine, and then something happens that unravels everything. Eyes are now open to things you didn't know or think to ask about.
How does this happen? Things get missed, overlooked, or someone just didn't know. We've all been there. The best thing to do with these situations is to ask questions, do the research, dig deep, and delve into the uncomfortable questions about what you might be missing. There is no such thing as a stupid question. That phrase in itself suggests that that the quest for knowledge includes failure. Just because one person may know less than others, they should not be afraid to ask rather than pretend they already know.
Export Compliance Auditing
So how does this relate to export compliance auditing? We've heard about IRS tax audits and how fun they can be. Did you know that your company can also be audited for export compliance? Yep, it's a thing. The U.S. Customs, U.S. Border Control, or designated 3rd party government contractor can audit your company at any time, with or without reason. They may just want to check in to see how everything is going, sort of like how the IRS randomly selects people to audit, or they may have just cause if they feel like there have been violations, knowingly or unknowingly.
Non-Export Compliance Penalties
What happens if your company is found in non-compliance? That answer can vary depending on the situation. Does it involve EAR or ITAR violations? Did your company ship to someone in a Denied Parties list? Were you aware that you were not following all proper export compliance regulations? Did any of these situations happen multiple times?
Depending on the frequency and severity, export compliance violations are going to vary from fines, possible jail time, or landing yourself or your company on the Denied Parties or Restricted Parties lists. Check out this chart that outlines the penalties.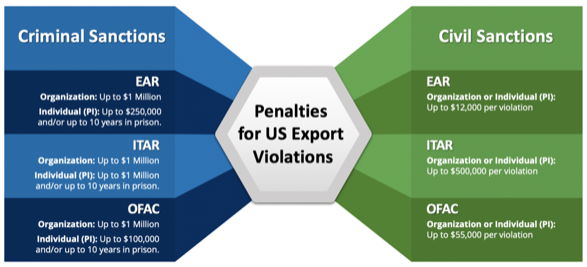 How Can You Prepare For an Export Compliance Audit?
With a lot of things in life, it's best to be as prepared as possible. The first thing to consider is the practice of self-auditing. Self-auditing is a way to evaluate processes for the things that you may not know or what may not be working as effectively as it could be. Auditing helps find holes and possible areas of improvement.
There may be some headaches the first couple of times you do this, but it's better to find and solve problems yourself rather than if the government found them first. This is something your company can do itself by developing an internal audit team of employees. These can be people from a variety of departments who would be fresh eyes to review what is going on. You could also hire an outside organization that does this. An outside organization conducting an export compliance audit will have an unbiased opinion and can look at your export compliance policies and activities with a fresh set of eyes. The best part is that unlike a real government audit, they can't fine you, they only advise.
Practicing self-audits will also make a real audit easier. Imagine a government agent coming in and you can hand them a binder, file box, data access point, whatever, of a nicely organized export compliance plan and exporting history that covers your company 100%. With Global Wizard, you can even store your export compliance plan in GWIZ so that your team has a unified place to track your compliance. Global Wizard will provide all the data well-organized with timestamps and tracked activities. They are sure to appreciate the organization of details as it will show diligence and how serious export compliance is taken at your company.
Would you like additional information on export compliance auditing? Download our 10 Steps to International Trade Compliance.